Cosmetic dentistry
Our smiles are important to us – studies show they are the first things people notice about us. Think of how many times a day you smile, both at work, at leisure, and at home. A beautiful smile makes you feel good about yourself, too! Those smiles deserve to look their best. Cosmetic dentistry is a great option for discolored, stained, or crooked teeth.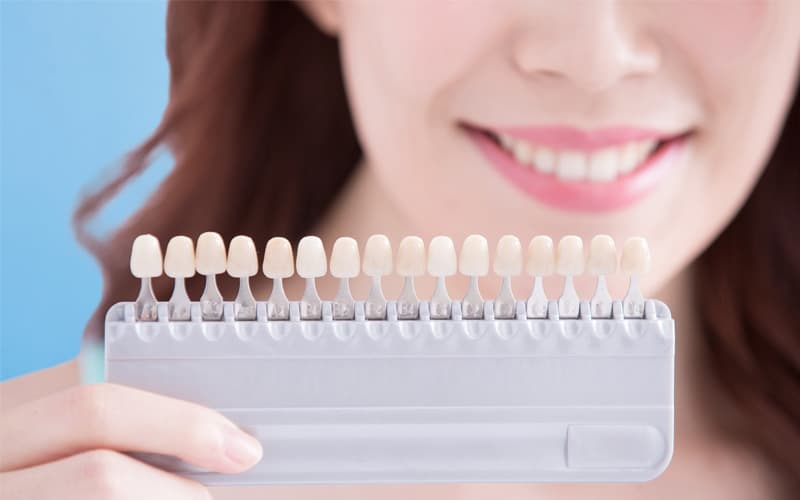 Dental Veneers Near You
Veneers are thin layers of porcelain that are bonded to teeth. We provide dental veneers near you to smoothen the surface of your teeth to cover imperfections and enhance the appearance of your smile.
What Dental Veneers Treat
We offer dental veneers in NE Calgary to treat patients with the following dental concerns:
They have discolouration in their teeth
They have uneven teeth
They have slightly misaligned teeth
To close gaps in their teeth
They have cracked or chipped teeth
They have worn-down teeth
They want to change the shape of their teeth
The Benefits of Receiving Dental Veneers Near You
There are many benefits to receiving dental veneers in NE Calgary. Our patients are not only satisfied with their results, but they also reap the following:
Increased confidence
A new smile
A natural-looking solution
A long-lasting solution
Veneers are made of a stain-resistant material
To reap the benefits of your new veneers for as long as possible, ensure you properly take care of your oral hygiene. Brush twice, floss daily, and maintain frequent dental cleanings. As long as you take care of your teeth, your new smile can last you for years to come.
Veneer application usually begins with buffing the teeth, removing a small amount of enamel to make room for the veneer, which is the approximate thickness of a contact lens. A mold is also taken of the teeth for the manufacture of the veneers near you. When you return for your next visit, the veneers are bonded to your teeth and adjusted for fit and colour. The dentist will let you know how to best care for your new veneers in NE Calgary, AB T1Y 6L4, and then you're ready to enjoy your brand new smile!